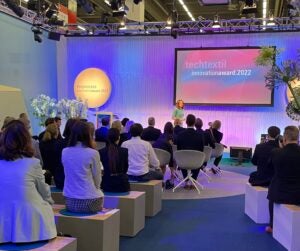 New tools highlighted to some 63,000 visitors by 2,300 exhibitors at Texprocess and Techtextil included ways to allow data to flow seamlessly from digital design and development all the way through the supply chain to help garment manufacturers cut costs, improve quality, increase productivity, speed time-to-market, reduce waste and stay competitive.
Other innovations include smart apparel, advancements in insulation, and photorealistic avatars.
New operational model for denim
Denim finishing technology specialist Jeanologia presented its new operative model to produce on-demand with zero discharge at Texprocess. To tackle the "disjointed" nature of the textile value chain and improve speed to market, Jeanologia has developed Urban Factory, a new digital finishing plant, interconnected and automated that integrates all of its technologies for garment finishing. Based on production that is sustainable and with zero discharge, it is able to quickly respond to consumer demands with an agile and digital production that does not pollute and saves costs, Jeanologia says.
The idea is to bring 15-25% of manufacturing production to Europe and the US. While the manufacturing of the garment itself will stay in the country where these activities usually take place, the garment finishing will be done close to the consumer, explains Carmen Silla, marketing director at Jeanologia. She adds the digital transformation of the textile industry should start with a change in how jeans are designed, pointing to the firm's eDesigner software tool, new features of which it highlighted at Texprocess.
eDesigner aims to make jean design fast, intuitive, and creative as well as connect designers with the wash developers and brands with manufacturers, standardising formats and communication. By doing so, Jeanologia says production is streamlined and time-to-market is improved as a design can become a sample and be approved in very little time.
Photorealistic avatars
Software company Assyst presented a new generation of what it calls photorealistic avatars at Texprocess in collaboration with Verce GmbH. Assyst says the new avatars will enable the fashion industry to develop and photo-realistically display apparel in an end-to-end way right through to sales, marking a significant step in marketing fashion products and tackling the topics of competition, price elasticity, the supply chain and sustainability. The decisive factor in the new Model Suite is its integration with 3D Vidya, Asysst notes.
The company's new Model Suite is divided into three levels, depending on which process step is currently involved in product development:
The BaseModel represents the starting point of the Model Suite and acts as a 3D fashion mannequin in the computer. It is mainly used as a foundation for the individual development of a fitting avatar for fit assurance and serves as a permanent basis for all model developments. The BaseModel has no textures and no character details.
The ShapeModel, meanwhile, is a virtual fitting avatar for the sophisticated simulation of apparel. With a high degree of realism and optimised for real-time usage scenarios, it represents the image of a human character with textures, hair and natural details. The Custom version of the ShapeModel also allows you to equip the avatar with individual body measurements of a specific size to match brand specifications (for example, if the brand is mainly aimed at a very athletic target group and specific dimension details are required on the upper arms). You can even go one step further with the Signature version and create an individual avatar development that matches specific dimensions and the definition of the brand shape using individual body details, for instance.
Finally, the TwinModel is the digital twin of the ShapeModel. It creates a basis for integrated development and end-to-end content production in unique quality. The TwinModel is the representation of a human character, including textures, hair and natural details. A TwinModel can also display virtual apparel in photorealistic quality in 3D Vidya.
Displaying avatars with apparel in 3D Vidya is made possible by the new V-RAY renderer and PathTracer technology, which Assyst says delivers photorealistic images in real-time.
CO2 sock
ITA Institut für Textiltechnik of RWTH Aachen University showcased a CO2 sock it says consists of elastic TPU fibres, parts of which are made from CO2 which is said to result in a reduction of the carbon footprint. ITA has developed a solvent-free melt spinning process for the special polymer, which is currently being scaled up to industrial scale. By using carbon dioxide from industrial waste as a raw material for textile and clothing products, the carbon footprint is improved and thus contributes directly to climate protection, ITA says.
Accelerating digital transformation
US computer software and services company PTC showcased the latest version of its FlexPLM solution which it says accelerates digital transformation for retailers. The new V12 solution features a new and transformative user interface redesign, providing users with faster navigation, optimised layouts, and an intuitive approach to product, PTC says. Visibility and speed have been drastically improved throughout, with all-new layouts and at-a-glance access to critical information, and navigation streamlined by the addition of universal tabs and action icons. Product images and other visual elements – including 3D objects and assets – are prioritised in the new design language, and a fully responsive interface maximises screen use, eliminates scrolling, and allows content to reflow to fit different devices including desktops, smartphones and tablets.
The V12 release also introduces the Visual Line Collaboration app (VLC), the first in a series of apps built on PTC's ThingWorx digital transformation platform, that will be released this year. The VLC extends the footprint and functionality of FlexPLM by streamlining the line review process. Using VLC, product management and merchandising teams will be able to make faster, better-informed decisions and improve forecasting accuracy. VLC also supports 3D assets, and every change made in review can be pushed back into FlexPLM to shape design and development decisions.
PTC also recently integrated the Higg insights sustainability platform with its FlexPLM solution allowing users to measure, manage, and track value chain sustainability in greater detail. Ultimately, the move means companies can apply Higg insights to inform their digital product creation process and make better business decisions.
Heatable sportswear
German knitwear company WearX presented its heatable sportswear with knitted silver-plated polyamide threads which heats directly on the skin, without wires. The heated underwear features silver-coated polyamide fibre which is a conductive fibre that is able to heat directly on the skin as the silver is "skin-friendly," according to managing director, Christoph Müller. Designed to be against the skin as a first layer, WearX's offering includes women's tights with heating on the knees and an undershirt with heating around the kidneys. The warming technology lasts for up to eight hours with three heating levels, while recharging takes about three hours. The garments are also washable for up to 60 cycles, according to Müller.
Aerogel insulation
German apparel and fabric manufacturer Outlast Technologies GmbH presented its new aerogel products for the insulation sector at Techtextil. Under the name Aersulate, Outlast's R&D team has developed innovative aerogel materials offering effective insulation with minimal space requirements. Aerogel, which is used by NASA, is made of the base material of sand quartz. Outlast explains it has a distinctive pore structure with an air content of about 98%, making it the "lightest solid in the world." This, coupled with the typical microporous structure are the ideal prerequisites for highly functional insulation materials, the company says. It has succeeded in permanently bonding aerogel to textile substrates in high concentrations, without affecting the original properties of the textile or modifying subsequent processing procedures, leading to what it calls "excellent" insulating performances. Outlast says Aersulate has a wide range of possible use areas, including apparel and footwear.
Advancing digitalisation in the sewing industry
The Dürkopp Adler Group presented a bidirectional networking system for the sewing industry, which was named the Texprocess Innovation Award winner in the category 'New Digitalization'. The new software module, QONDAC Guided Working, allows users to collect and analyse data for production optimisation, managing new orders in production, guiding employees through sewing operations, administering the machine park, and controlling service processes. Depending on the digitisation objectives, different software modules are offered, and depending on the sewing technologies used, three different levels of integration are proposed; the networking of manual workstations, the connection of standard sewing machines, as well as the deep integration of programmable sewing machines, such as the M-Type Delta. QONDAC also interacts with existing production control systems via prepared interfaces.
Heated and waterproof jackets
Swiss Schoeller Textil AG showcased Schoeller-aerobrane technology, an e-spinning membrane it says offers optimum protection from wind and rain yet maintains breathability. Its structure consists of ultrafine, hydrophilic polyurethane fibre composite which differs from other foil-based membranes. Its high porosity, combined with what Schoeller calls a very large specific surface area, permits ventilating and heat-regulating effects. In addition, water droplets cannot penetrate the outer side of the garment as they are larger than the pores of the membrane.
Schoeller also highlighted its Heatable Capsule Collection developed in collaboration with tech pioneer Deutsche Telekom and AlphaTauri. A smartly integrated heating technology is part of the cross-seasonal collection and can be controlled interactively via an app, ensuring an individually adjusted temperature. The Schoeller E-Soft-Shell heating technology features a fabric-integrated heating function consisting of cork granulate insulation (corkshell) and heat-conductive lining (E-Soft-Shell) in pockets and on the lower back to evenly distribute heat. The built-in sensors allow measuring the temperature of the micro-climate within the jacket.
Tencel complete shoe concept
Austrian cellulosic fibre producer Lenzing debuted a number of innovations at Texprocess, among which was its complete shoe concept which harnesses Tencel for footwear. The company says its Tencel Lyocell fibres make complete sustainable shoe solutions possible, as they can be used for every part of the shoe whether as a textile fibre in the upper fabric to nonwovens in the insoles or even as Tencel Lyocell powder in outsoles.
Benefits of using Tencel Lyocell fibres in footwear include enhanced breathability and moisture management, particularly in the construction of the inner lining, padding, and insole. Lenzing says the fibril structure of the fibres supports the body's natural thermal regulation mechanism and keeps feet feeling cool and dry.
Repellence of water-based stains
Textile chemicals specialist Archroma presented two innovations suitable for use in the apparel and fashion sector at Texprocess. The firm's PFC-free Smartrepel Hydro SR solution was developed for the repellence of water-based stains, with Paul Cowell, head of Competence Centers for brand and performance textile specialties, telling Just Style at the show that the solution would be useful in removing make-up from the likes of shirt collars. The technology has been specifically developed for soil-repellent finishes aiming to offer industry-leading protection against water-based stains such as coffee, red wine, and ketchup.
Archroma also highlighted its new Biocide-free OX20, an odour-neutralising technology newly launched by its partner Sanitized AG. The solution does not kill bacteria but absorbs odours from it.
Click here for more on Texprocess and Techtextil innovations, including the winners of this year's Innovation Awards.
The post Texprocess and Techtextil 2022 – A highlight reel of new solutions appeared first on Just Style.